To be able to use Email to Salesforce, start by configuring it within Salesforce.
1. From your personal settings, enter Email to Salesforce in the Quick Find box, then select Email to Salesforce.

1.1. Enable it and click Save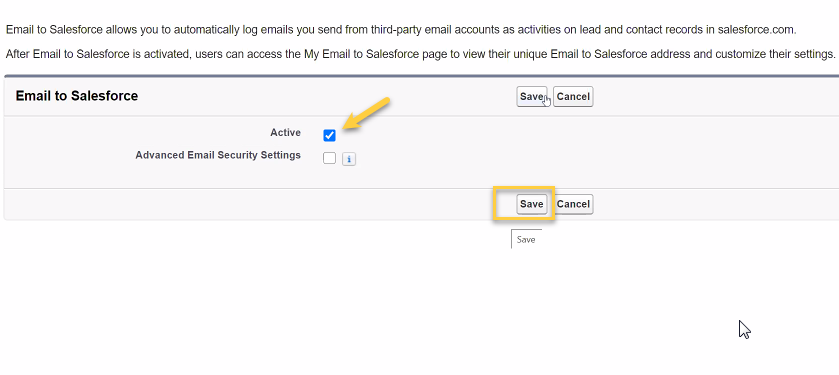 1.2. After enabling, click Avatar -> Settings -> then search "email" in the left sidebar
2. Go to your AppointmentCore account under Account Settings and Extensions -> Company Settings -> Attach Emails to Salesforce Contact record. Click on the little arrow and copy the list of the emails for the users that you want to enable this feature on Salesforce.
3. Enter the user's email addresses that may be used in My Acceptable Email Addresses. If you will add more than one address, separate each address with a comma.
IMPORTANT!
Salesforce only accepts email from addresses that you list here.
4. Under Email Associations, select options as needed.
6. Once you finish configuring the option in Salesforce it's time to transfer this to AppointmentCore. You need to copy the email generated by Salesforce and then paste it in Appointmentcore Settings. Under Account Settings and Extensions -> My Company Settings -> Attach Email to SalesForce contact record:
When you get everything working you will be able to see if your email reminders have been sent through Salesforce:
The options and screenshots above refer to Salesforce Classic Theme. The Sequence in the Lightning Theme is similar, but the screens look somewhat different, here they are:
In My Settings search for Email to Salesforce:
Activate Email to Salesforce: